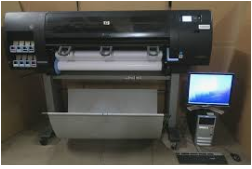 Canon Plotter iPF750: The Environment-Friendly Model. Looking for a printer that suits office work outputs, as well as different industries and other applications? Or just a printer for your personal use and small working groups? Whatever it is, seek for Canon plotters. All of the printers they made have exceptional quality and produces prints that are consistently vivid, almost accurately plotted from what you have designed on your computer. The Canon plotters for sale are also designed to be safe for the environment. It contains easily accessible operations, which make its usage hassle-free even its installation. Have you checked out the Canon imagePROGRAF iPF750 yet?
What can it offer?
The imagePROGRAF iPF750 is an amazing product released by Canon that possesses the usual features of the company's plotters. It contains preset document profiles that are easy to use, printing applications and media that allow automatic options for quality printing, editable documents through preview settings, economy print mode, borderless printing, and many others.
Just like the other printers of Canon imagePROGRAF, this printer can do high-speed printing with 24"x36" drawing created in just 28 seconds. It is also productive to use due to its continuous printing without interruption, which is made possible by its revolutionary sub-ink tank system. You can replace the ink on a cartridge even when it's printing. Another awesome feature is the precision high-density printing of iPF750.
It is designed for fast operations and advanced output production because of the nozzle form developed to reduce satellite ink, create vivid images, and reduces mist. The image produced is nothing but accurate, sharply detailed, and the best quality. The iPF750 also contains the Print Job Accounting Manager with the following features: autorotation, auto nesting, log recording time, job name, client ID, execution and complete time and state, ink consumption per job, number of completed pages, and media consumption per job.
The accounting features of Canon plotters calculates the cost of printing consumptions that allows you to track your expenses in print jobs. The iPF750 plotter has also HDI driver for AutoCAD application, which creates an upgraded and accurate graphical representation of the plotted image for a more advanced precision drawing of the data.
What's in the box?
Do not hesitate to buy any Canon plotter printer. You will never regret getting it especially if you use it for business and receive the return of your investment. When you purchase a package of Canon imagePROGRAF iPF750, expect the contents to be the following: scanner with a power cord and USB cable, printer stand, computer and some software, touch-screen monitor, scanner installation and instruction manual, scanner calibration sheet, keyboard and mouse, a printer with stand and basket, roll holder and core adapters, print head, cartridge, ink tanks, Ethernet card, user manual CD, reference guides, menu map, power cord, PosterArtist, and others.
The plotter that you will be assembling is space-saving and contains a small footprint with accessible operations. It is specifically designed with concern to the environment; produced by less plastic and minimal carbon dioxide emissions.
If your location is around Chicago, you may also visit Copier Lease Chicago, Copier Repair Chicago, and Copier Rentals Chicago or call Service Location Chicago (312) 216-0722