Canon always has the ability to deliver amazing output quality. Canon is, after all, the master of printing and printing is the epitome of a printer. The MAXIFY series from Canon is an effort to give excellent output quality while not compromising on the efficiency requirement of a business. In this regard, the Canon MAXIFY MB2760 is aimed at the small office and home office market segment.
This means that the Canon MAXIFY MB2760 is aimed at offices that have light-duty printing requirements or home offices and personal users with heavy-duty printing requirements.
As expected from a Canon product, the biggest benefit that the Canon MAXIFY MB2760 offers to its owners is its output quality. Canon has managed to translate its excellent photo output quality easily into overall output quality. The device is rated to print up to a maximum resolution of 1200 x 600 dpi. Technically, this resolution ceiling is similar to a lot of its market competitors but in practice, the machine performs better.
Text-focused document printer this printer tends to show quality comparable to what professional typesetters produce. The colour accuracy of graphics means that you can probably use this device to print your marketing material and presentations. It is expected that the photo printing quality is amazing as well.
While the print output quality is amazing, the scanning quality is good. The maximum scanning resolution that the Canon MAXIFY MB2760 is capable of is to the tune of 1200 x 1200 dpi. The best thing about the scanner on this device is the speed. If you use the 50-sheet ADF or Automatic Document Feeder, you can scan at speeds of 18.5 monochrome pages per minute or ppm and 15.5 ppm in colour.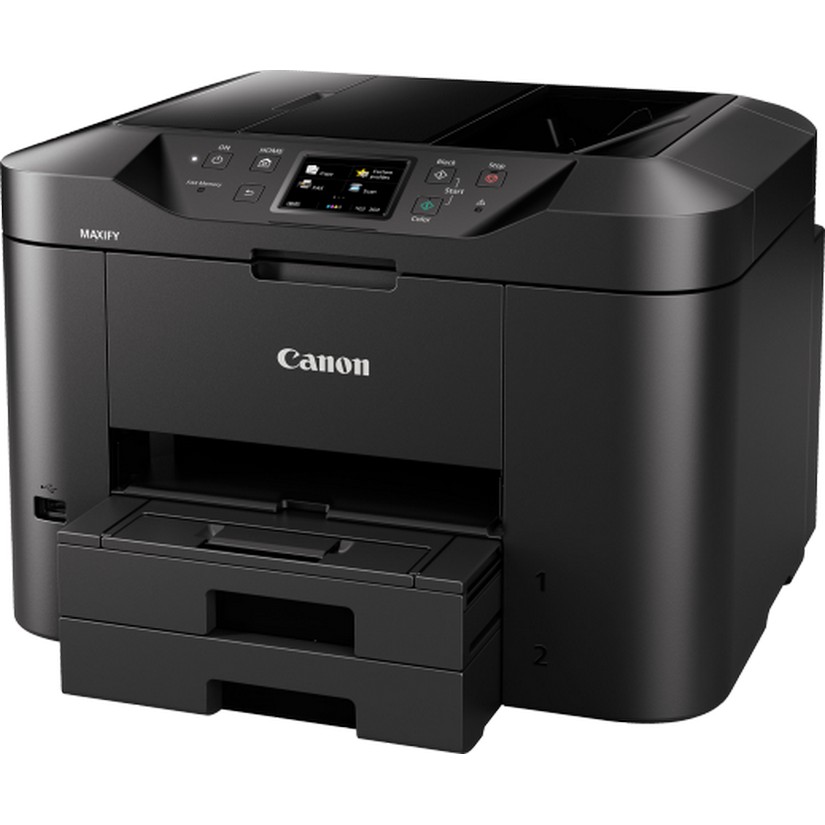 The Canon MAXIFY MB2760's paper handling is also something to be noted. Its paper handling is good enough to provide more advanced printers with a run for their money. The MB2760 comes standard with a total capacity of 500 sheets but that is not the best part. The best part is that this paper's capacity is divided into two trays of 250 sheets each.
This means that if you want to use two different kinds of media, you can. The print engine in this multi-function printer is prolific as it has a maximum monthly duty cycle of 20,000 sheets. Along with this paper capacity, you also get the option of automatic duplexing which is sure to save you a lot of paper and double the number of images that you can produce without adding to the paper trays.
All of these qualities do not cost a lot of money, which really adds to the allure of this printer. The Canon MAXIFY MB2760 is not the most compact but it is not the biggest either. It falls in the middle of the accepted benchmark. It measures about 389mm deep, 463mm wide and 320mm high. It does not weigh too much either. It weighs about 12.1 kg, this means that you can probably share your desk with it, without worrying about it being overloaded.
In terms of print speed, the Canon MAXIFY MB2760 can print 24 ppm for monochrome documents and 15.5 ppm for color documents.
If you wish to own this printer but you are not ready to buy it yet, you can always lease one. You can contact your local leasing company for details about the Canon MAXIFY MB2760 and they can give you the best deals and the best instalments.
If you plan to get copiers for your office in Chicago, you can buy or lease copiers in Chicago. We can give you the option to get the copier that you want. You can contact our local copier leasing services department in your location.
If your Location is around Chicago, you may call us at (312) 216-0722, our personnel for copier leasing in Chicago will assist you. If you are also looking for copier repair services in Chicago, you may contact our copier repair personnel at the same number.