Xerox is a company that is known for making high-quality, reliable, and durable copiers. They are innovative, and they consistently set new standards. Xerox created the original copier, and they have continued to be on top of their game ever since, now being a world leader in the market and the industry. Xerox specializes in increasing workplace productivity through simplicity and innovative solutions.
When buying a copier from Xerox, you can expect a powerful and easy-to-use high-performing machine. Here are the three new Xerox copiers that you should get:
Xerox Phaser 3300MFP
The Xerox Phaser 3300MFP model is a black and white multifunctional photocopier that is capable of scanning, printing, copying, and faxing. With a simple-to-use design and straightforward setup, the 3300MFP would be a welcome addition to any office. The printing speed is 28 A4 pages per minute, combine this with the 300-sheet capacity, and you will be ready to handle a whole range of jobs.
The standard capacity can also be increased to 550 sheets for businesses that are copying large amounts. The copier also lets you know when the paper is running low, so you do not get caught out or slowed down by an empty paper tray. Some of the standard features on the Xerox Phaser 3300MFP are an automatic feeder, automatic helix printing, and easy network connection.
When not in use, the Xerox Phaser 3300MFP will automatically reduce power consumption in order to save electricity and energy.
Xerox ColorQube 9302
The Xerox ColorQube 9302 is designed for large businesses and has a large variety of features that makes sure every need is met in one appliance. The Xerox ColorQube 9302 is able to print in black and white as well as in colour and can copy, print, scan, and fax. The compact design has not resulted in a loss of features as this model can print at speeds of up to 55 black and white pages per minute for 45 colour pages per minute.
You can use both A3 and A4 paper with this copier, which means it can give you more flexibility when creating materials like posters and other potential marketing materials. The features that come with this copier include automatic duplex printing, automatic image resizing, and booklet creation, and you even get some finishing options included as well.
There are upgrades and additional features on the ColorQube 9302 as well, so there is no reason that you should find yourself needing anything else as this Xerox copier has everything. A fast, versatile, and capable machine that is great for the requirements of bigger businesses.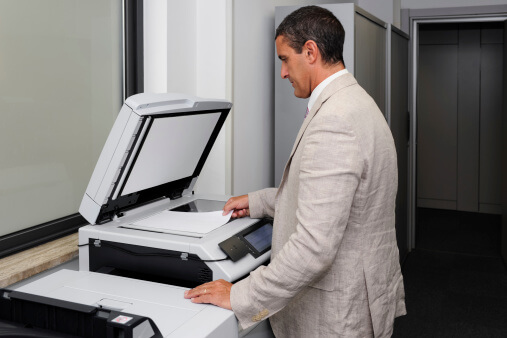 Xerox WorkCentre 5790
The Xerox WorkCentre 5790 is a high-volume black and white copier that can produce up to 90 pages per minute in an incredible resolution of 1200 x 1200 dpi. The high quality and fast speed make the WorkCentre 5790 perfect for busy businesses that have a lot of printing jobs as well as bulk prints. The standard capacity is 4,700 sheets making it ideal for large businesses. If you require more capacity, you can opt for the maximum option, which would give you an increased capacity of 8,700 sheets. Another benefit of the WorkCentre 5790 is the ability to handle paper sizes of up to A3.
You can expect easy operation, outstanding performance, and multitasking abilities when using the WorkCentre 5790. Security is also strongly featured on this multifunction copier to help make sure that your information is kept safe, and only authorized people can access the device.
If you wish to own any of these Xerox copiers, you can purchase them from Xerox retail stores. If you are not ready to buy one yet, you can contact your local leasing company.
If you plan to get copiers for your office in Chicago, you can buy or lease copiers in Chicago. We can give you the option to get the copier that you want. You can contact our local copier leasing services department in your location.
If your Location is around Chicago, you may call us at (312) 216-0722, our personnel for copier leasing in Chicago will assist you. If you are also looking for copier repair services in Chicago, you may contact our copier repair personnel at the same number.