Everyone has a budget, but settling for the cheapest copier may not be the best bang for your buck. There are additional crucial factors to consider when purchasing a copier, which we've worked into our selection criteria.
Reliability− Each machine on this list ran the recommended number of impressions listed by the manufacturer and was assessed based on the number of misfeeds that occurred during the test.
Image Quality− This rates how well the copier performs in the areas of:
Colour Print Quality (business graphics and photographic images)
Black Print Quality (text, halftone range, halftone fill, line art, and solids)
Print Density (this measures the density of a printed image with blocks of all solid colours based on the average of two readings each for cyan, magenta, and yellow, and four different locations for black output)
Gamut Variance Readings (assesses the distance between colours)
Ease of Use− For each copier on this list, we asked ourselves if the design and interface are intuitive. This category is measured in the areas of print, scan, copy, job management, multitasking, and feedback.
Security− For this criterion, we analyzed which features each copier had that secure data, including the following: network user authentication, biometrics, ID card, common access, and more.
Features− The variety of apps and tools included with the device, as well as other hardware features like additional memory and hard drive capacities. This category is broken down into three criteria: specifications, solutions, and environmental.
If you decide to purchase a copier from this list, you have to consider more than just the copier with the highest score.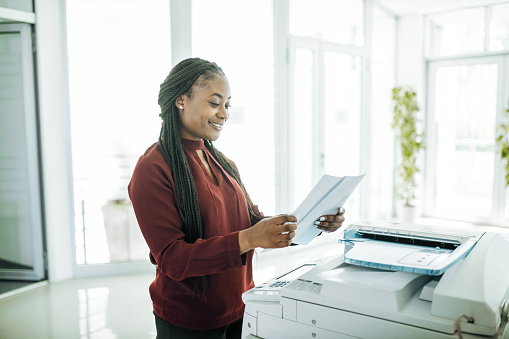 Canon imageRUNNER Advance C7580i II
The C7580i II is about as good as it gets by office copier standards. Receiving high marks in every category, this machine is perfect for enterprise-level offices, high print volume requirements, and multi-user environments. Like most of Canon's copiers, its display screen is highly customizable to suit your preferences. If you're looking for a high-capacity machine with few weaknesses, this is a good option.
Canon imageRUNNER Advance C5560i II
The C5560i II is designed for businesses with complex printing and scanning needs, with high image quality and fast print speeds for its class of copiers. When compared to its predecessor, this machine offers a higher-capacity cartridge, more memory, and larger touchscreen, standard wireless, standard hard disk drive encryption, and a higher paper capacity.
Kyocera TASKalfa 8052ci
The 8052ci serves as an alternate option to the Canon imageRUNNER Advance C7580i II in terms of speed, with a perfect features rating, but lower security, ease of use, and image quality rating. This machine is designed for large work environments that need a high-volume machine for printing in colour. When compared to previous editions, this model boasts a faster warm-up time, more random access memory, and a faster monochrome/black & white print speed.
Toshiba e-Studio 5506 ACTG
This machine performed very well during third-party testing and it appears Toshiba has made strong efforts to improve many of its machines in areas that were once severely lacking. With that said, there were three minor misfeeds during the test (more than any other machine on the list). Features that are particularly helpful, include on-the-fly toner replacement for maximized uptime.
If you plan to get copiers for your office in Chicago, you can opt to buy copiers or lease copiers in Chicago. We can give you the option to get the copier that you want. You can contact our local copier leasing services department in your location.
If your Location is around Chicago, you may call us at (312) 216-0722, our personnel for copier leasing in Chicago will assist you.   If you are also looking for copier repair services in Chicago, you may contact our copier repair personnel at the same number.